I'm dreaming of an otaku Christmas.
Tis the season to be moe and what better way to be that than have an otaku Christmas? It's only two weeks until Christmas and the clock is ticking fast.
Hanukkah
, Christmas, no affiliation, it doesn't matter. We all celebrate the winter season with good ol' consumerism.
Giving or receiving gifts, this is a guide for some good, last minute gift ideas!
Plushies are not only absolutely adorable but they can be cheap if you're looking in the right place! In our experience, these little guys are a popular gift to give and receive for friends and otaku family members. You can never go wrong with them! Main stream anime will have plushie available for as cheap as $8. Picky people beware, there are people that will make you a custom plushie but the costs can go up to $70 and will take time.
Unless you're an otaku
philanthropist, a cosplay could be a costly gift to give to your tomodachi but not a bad thing to ask to receive from a loved one or to give yourself! Nothing says Merry Christmas to yourself like the costume you've been wanting for months.
The full out head to toe costume a la mode may be a bit much but that doesn't mean you have to steer clear of cosplay all together. Wigs and props are actually quite inexpensive and would not be too much to ask for or to give. Give your friend a kunai to finish off that Naruto look and they'll promise to never use it against you.
In this day where internet pirates rule the world, a DVD can seem like a silly thing. But many people still see reverence in collecting them for memory sake or to support the creators they adore. DVDs vary a lot in price depending on how many episodes and the rarity of the series, but even the rare ones have fair prices! If you are out to purchase DVDs to support the creator, make sure you are buying from a reliable source and not a pirated version!

Manga is much like DVDs but even cheaper and portable! Yay cheap! When purchasing manga from a book store, the price will vary according to your country. The great thing about manga is when purchasing online, the prices are cheap and equal for all countries as long as you can read English or Japanese.

Keychains, wallets, sticker books, mouse pads, all perfect accessories that can be otaku-fied into your everyday life. Nothing sports anime pride like turning everyday items into a declaration of your favorite activity. You'd be surprised to see that creative individuals have anime-washed everything. Everything.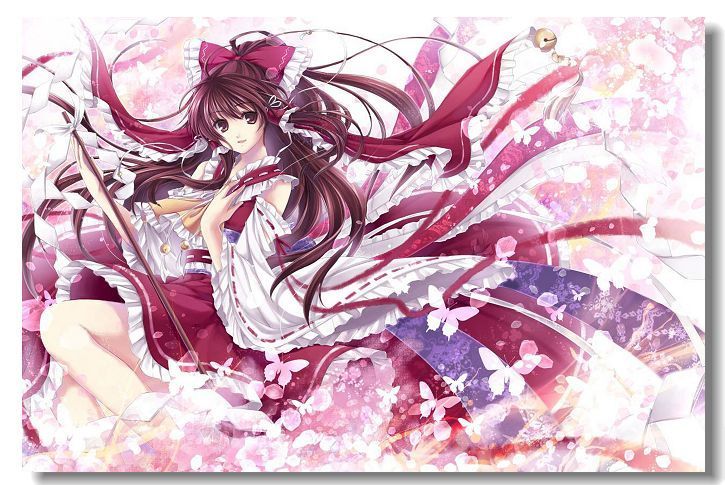 More expensive than manga but can be so much better if a series did not go your way. Doujin are fan made so the prices can be steep, around the same price as a series DVD box set, but if you wish to support that fan and their work, you're willing to pay the price. Be warned, most doujin are written in Japanese!
Otaku-fying a room with box sets and manga isn't enough! Add some posters. They're cheap and big! They're paper so easily ruined, so hang them high or opt for a more expensive and sturdy wall scroll.
Get Creative
To anything left out, use your imagination! Maybe your con-hopping pal would do shameful things for lace fabric or you want a bento box to eat on top of the school roof and argue with your imagination bishie boyfriend. The otaku life is a broad cult and pretty much anything can go to the cause.
Now that you know what you want, you want to know where you get it!
The fastest route is to buy these products in person, but most people don't have a local Japantown. Tax evading, lazy or location, purchasing online can be the option for you. The internet has a lot more to choose from at a possible cheaper price. But be warned, you can't see the quality and some people are out to scam you in price! Always think carefully of where you and your loved ones shop online.
OtakuNuts will only recommend sites we have shopped at and have guaranteed safety. Amazon and Ebay have guaranteed buyer protection. When shopping on a site, make sure to find out how protected you are!
Amazon.com is not just a site for books in case you're still living in a world where 4chan does not exist. If you're in a bind for a last minute purchase, Amazon is the place to shop. The options are less than Ebay but more professional and possible faster shipping. Amazon has an option called Prime that allows free two day shipping if the vendor is participating. Most items listed above are Amazon Prime options! They also allow customer reviews, so you'll definitely know if the item is as good as it looks.
We all know Ebay and most of us shop there for cheap products! Because every page on the site is a different vendor, the quality, time and price can greatly differ. So shop around a lot before you make a purchase. Always make sure to look at the page's reviews as well to see what to expect! If time is not a factor, Ebay is a great place to look for used and new otaku goods. This site is cheap because most products are off-brand or used. It's not called an online Chinatown for no reason, a lot of vendors are from China, especially in the otaku part. The prices are cheap but the shipping can take up to a month depending where you live.
So now you see, having an otaku-filled holiday season does not have to be pirated episodes and scarring ecchi fan art. If you look in the right places, it's very affordable! So leave that computer desk you haven't moved from in a week and ask mom for a Fruits Basket plushie since you're too embarrassed to ask for a yaoi sims game.
Comment below, are you buying any otaku goods for the holiday season? Are you and your friends exchanging otaku gifts? If not, what do you wish you could purchase this year?
Written by Amber; all copyrights go to the rightful producers of the products on Amazon.com and Ebay.com